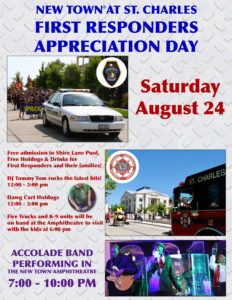 Click here for link to event on Facebook.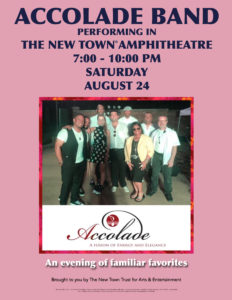 New Town at St. Charles is excited to announce First Responders Appreciation Day will be celebrated on Saturday, August 24th, 2019!  This fun filled day of appreciation for our First Responders will include the following Events throughout the day:
-Shire Lane Pool from 12pm-3pm: Open house for St. Charles First Responders and their families.  DJ Tommy Tom will be playing all the latest hits! Please stop by to thank and support our First Responders!
-New Town Amphitheater from 6:00pm-7:00pm:  Come join in on the fun at the Amphitheater for the First Responders meet and greet, where Fire Trucks and Medical Helicopter will be on display, along with the St. Charles PD K-9 unit! 
-New Town Amphitheater from 7:00pm-10:00pm: Finally, the Accolade Band will be playing all the hits from the 70's, 80's, 90's and today.  A tribute to our First Responders will be performed during the concert!
If you would like to support and donate to the First Responders, please bring your monetary donations to the General Assembly Office, 3312 Rue Royale Street,  Monday – Friday between the hours of 9:00 a.m. and 5:30 p.m., by Wednesday, August 24th.  Funds will be donated to a charity supporting First Responders.  Thank you in advance for your continued support of our First Responders!