Residents welcome!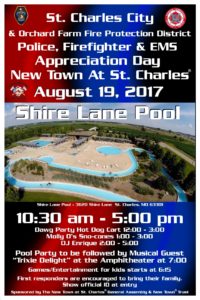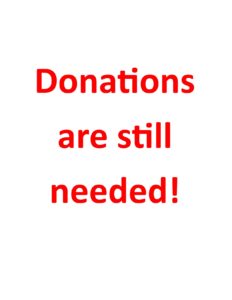 The 2nd Annual First Responder's Appreciation Day will be held August 19th at the Shire Lane Pool.  Similar to last year, each District is donating either money or goods for the event.  Anyone interested in donating can drop off money or relevant items to the General Assembly Office during normal business hours.  The Districts and what they are gathering are listed below:
– Beach – Money for Molly O's (cash)
– Gateway – Chips & other non-perishable snacks (or cash)
– Theater – Giftcards (or cash)
– South Lake – Soft drinks – no glass (or cash)
– Island – Ice, plates, cups, cutlery or napkins (or cash)
This event is a great time for all and residents are encouraged to come out and join our First Responder's for a day at the pool.
Click here for a link to the Daytime Event flyer.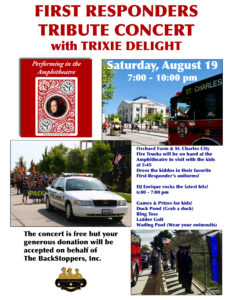 Even more fun with evening activities at the amphitheater!  Music with DJ Enrique and a performance by Trixie Delight.  Games and prizes for the kids too!
Click here for link to Evening Event flyer.