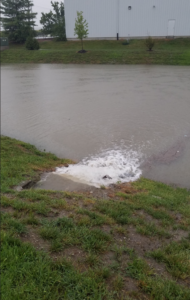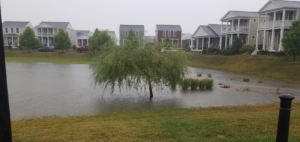 Seven inches of rain fell in New Town in less than 12 hours overnight, with more rain expected tonight. This weather event caused water issues to various parts of our community and sadly, a few homes took on storm water. We encourage neighbors to help their affected neighbors cope with the cleanup.
The basins behind Broad Street and on Broad/Saturday/Starry Night collected storm water as designed. This rain event is a very good reminder why we cannot fill and/or line the basins without redesigning and constructing new stormwater systems for those drainage areas. By lining or filling these areas we take away the storage capacity during large storm events.
 The permanent pump system installed at the front lake near New Town Blvd last year is handling the storm water as designed, by pushing water out and preventing more water from coming into New Town lakes. Charlestowne lakes drain into the New Town lake system, and the excess water flows out through the new pump station. The water will likely remain high for several days, but we expect the lakes and pump to continue to handle the flow. Last year's decision by the Founder, the Board and General Assembly to make the investment in this pump station greatly reduced the chances of a catastrophic flood in New Town.
 New Town lakes in the Beach District are not connected to the other lakes in New Town. The 80-acre detention pond adjacent to the Boschertown bike trail collected so much water it overflowed into New Town lakes, causing flooding in a few of the homes along Kilderkin Place and Keokuk Street. The water also flooded New Town Blvd. With no safe place to place a pump to push water out of the lakes without it coming back in, so we were forced to wait for the water to subside.